Maps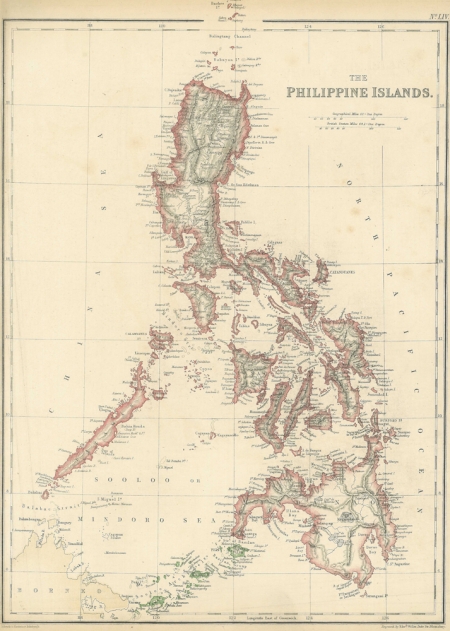 Artist / Author / Cartographer:
Weller, Edward
Title:
The Philippine Islands
Date:
c.1859
Medium:
steel engraving, outline colour
Size:
35.5 x 25.2 cm
Description:
A map of the Philippine Islands published in London in 1859. The area shown is from the Bashee Islands in the north to the Sooloo Archipelago in the south. The islands are attractively represented in original outline colour of pink.
Edward Weller F.R.G.S., was an engraver, cartographer and publisher, based in London. Weller's best known work appears in Cassell's Weekly Dispatch Atlas, published in monthly segments for subscribers of the Weekly Dispatch newspaper. Tooley gives his addresses as 34 Red Lion Square (1861) and Duke St., Bloomsbury (1872). His maps were also published by Walter Graham Blackie in The Imperial Atlas of Modern Geography. An Extensive Series of Maps, Embracing the Most Recent Discoveries and the Latest Political Divisions of Territory in all Parts of the World. Compiled and Engraved from the Most Authentic Sources W.G. Blackie, London 1860 / 1872.
References:
Item Code:
MA5130
attachment: