Maps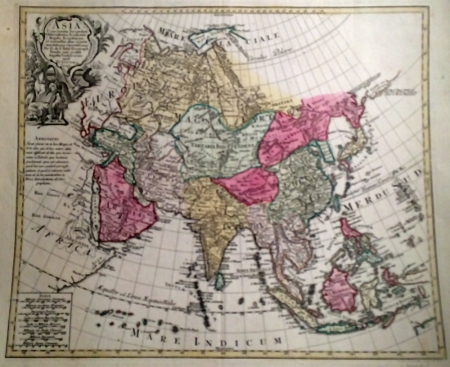 Artist / Author / Cartographer:
Lotter, Tobias Conrad
Title:
Asia concinnata Secundum
Date:
c1770
Medium:
copper engraving, original hand colour
Size:
48.5 x 57.8 cm
Description:
Asia concinnata Secundum - Asia Concinnata Secundum Observationes Academiae Regalis Scientiarum...
A decorative map of Asia engraved by Gustav C.Lotter and published by his father Tobias C.Lotter in Augsburg, Germany. A fine example of Tobias Conrad Lotter's large format map of Asia with attractive wash color.
This attractive map is largely based on the cartography of the French Royal geographer, Guillaume de L'Isle.
Tobias Conrad Lotter (1717 - 1777) was an engraver and publisher of Augsburg. He was a student of Matthaus Seutter (1678 - 1757) and married his eldest daughter. After serving an apprenticeship to J.B. Homann, the Nuremberg map publisher, the German mapmaker Matthauus Seutter set up his own very successful business in Augsburg and was appointed Geographer to the Imperial Court. With his son, Albrecht, and son-in-law, Tobias Conrad Lotter, he issued a number of atlases. For much of his life he worked in competition with his old employer and, not surprisingly, his maps are often very similar to those of Homann. In 1758 Lotter inherited half the copper plates from the Seutter family firm. In the same year he set up an independent publishing house in Augsburg. Gustav Conrad Lotter (1746 -1776) was an engraver who worked for his father Tobias in Augsburg.
References:
Item Code:
MA7727
attachment: