Maps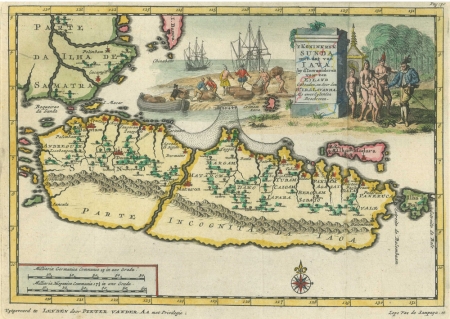 Artist / Author / Cartographer:
Aa, Pierre Van der
Title:
South East Asia - 'T Koninkryk Sunda met dat van Java
Date:
c1706
Medium:
copper engraving, later colour
Size:
14.8 x 21.5 cm
Description:
This map was engraved for Van der Aa's, Cartes des Itineraires et Voiages Modernes, which was published from 1706 onwards. The maps accompanied descriptions of early European voyages to different parts of the world. The Cartouche depicts the voyage of Lopo vaz de Sampaya.
The Dutchman Pieter Van der Aa was a publisher, editor and bookseller who worked in Leiden in Holland. He started working as an apprentice to a bookseller when he was nine years old and started publishing his own books by the time he was twenty three. He published numerous atlases and travel books.
References:
Item Code:
MA7780
attachment: