Maps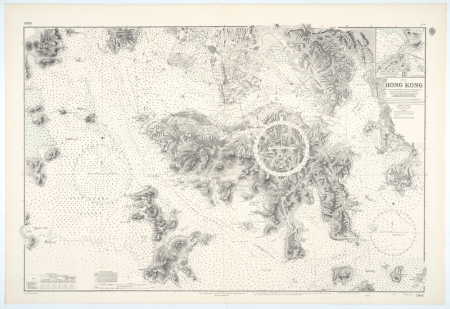 Artist / Author / Cartographer:
Belcher, Captain Sir Edward
Title:
Hong Kong
Date:
1966
Medium:
lithograph
Size:
62.5 x 95 cm
Description:
China - Hong Kong. A hydrographic chart after the original survey conducted by Captain Sir Edward Belcher in December 1841 with numerous updates to 1966. The map was published by the Hydrographic Office of the Admiralty, London. It was originally engraved on copper in 1843.
A detailed hydrographic chart of Hong Kong Island and surrounding waters based on numerous Royal Navy surveys to 1966, with small corrections to 1967. This map would have been the most accurate map available on this scale for its time. Interesting that the original survey by Captain Edward Belcher was still being used as the template for hydrographic maps into the 1960s.
Stephen Davies notes, "chart began life with Belcher in 1841 and went through 23 editions before being withdrawn in 1966 (the number was reallocated to Ibiza in 1974). It kept the number 1466 from the date of first use of numberings (it is in the 1849 BA Catalogue of Admiralty Charts as such) until it was withdrawn.
The whole outline will have been re-done in the late 19th century when UKHO moved from copper to zincography and then photolithography. The plan of Kaulung Docks was inset in 1873 and that of Fowtowmoon Pass in 1878. In 1883 the spelling changed to Kowloon Docks and Foaumun. In 1892 the Kowloon Docks plan was removed.The surveyors who contributed to the chart were Belcher, Edward, Cmdr CB RN; Purey-Cust, HE Lt RN (partial) (Hydrographer 1909-1914); Mostyn Field, A Cmdr RN (Hydrographer 1904-1908); Smyth, Morris H Capt RN and Monro, CE Cmdr RN. There were large corrections in 1873, 78, 94, 1927, 37, 51, 53, 66 and new editions in May 1843, (uncertainly in 46, 47,) 83, 89, 92, 93, 1904, 06, 07, 10, 12, 15, 23. So the final state of the basic plate was 1923, and only large and small corrections will have been added between then and this final version in 1966. Belcher gave his name to Belcher Bay and Belcher Point (and The Belchers) and Purey-Cust to the no longer extant Cust Rock.
The scale is 1:30,300 (1 minute (6080') = 2.4") with insets to a scale of 1:12,100 (1 minute = 6")."
References:
Item Code:
MA7799
attachment: