Maps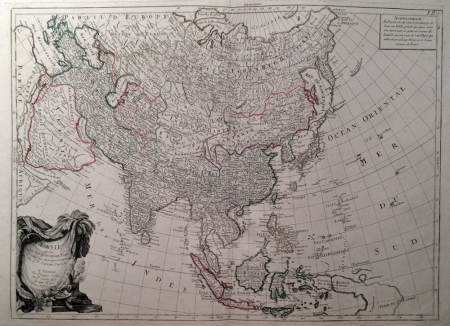 Artist / Author / Cartographer:
Janvier, Jean
Title:
L'Asie divisee en ses principaux Etats
Date:
1784
Medium:
copper engraving, original outline colour colour
Size:
47 x 65 cm
Description:
L'Asie divisee en ses principaux Etats assujettie aux observations astronomiq par le Sr Janvier, Geographe. A Venise par Francois Santini, rue St. Justine pres la ditte Eglise. Chez M. Remondini.
An attractive 18th century map of Asia by the French mapmaker Janvier published in Venice by Santini. The Sea of Korea is depicted as "Mer de Corée. Both Macao and Canton are shown in the Pearl River Delta. The Straits of Singapore are also shown.
Decorative title cartouche. Hand-colored copper engraving, printed on chain-lined paper with watermark.

Francesco Santini was a Venetian merchant and publisher who reissued the work of the brothers Gilles and Didier Robert de Vaugondy.
References:
Item Code:
MA7495
attachment: