Maps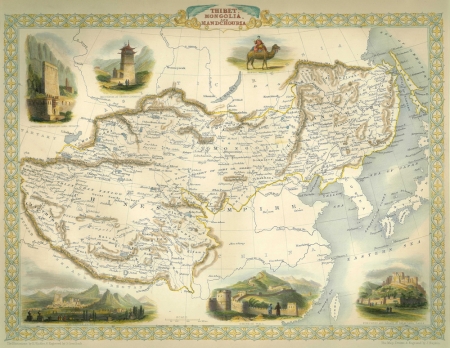 Artist / Author / Cartographer:
TALLIS, JOHN
Title:
Thibet, Mongolia and Manchuria
Date:
1851
Medium:
steel engraving, original outline and later colour
Size:
26 x 35 cm
Description:
The map of Tibet, Mongolia and Manchuria was published in London in 1851 to coincide with the Great Exhibition. The map is adorned with six vignettes of views and a Mongol camel. This area covered a significant part of the old "Silk Road". Cities indicated include Kashgar, Yarkand, Khotan, Kourkhara, Tourfan and Karakorum.
John Tallis was one of the most successful English publishers of the nineteenth century. He first published the Illustrated Atlas in 1851 which featured a series of beautifully engraved maps of different countries of the world. The atlas was a compilation of information from explorers, geographers, artists and natural historians from all around the world. It reflected the geographical political, commercial and statistical world of the mid-nineteenth century. These maps were drawn and engraved by John Rapkin and the vignette views were drawn and engraved by a number of prominent artists. Leading cities and towns are shown along with national costumes, and indigenous flora and fauna. The vignettes also reveal other things such as gold washing in California, clipper ships in the harbour of Hong Kong, the splendours of Polynesia, developments of New Zealand and Australia, the bridal chase of the Tartars, the great sphinx and pyramids in Egypt, a convoy of diamonds in South America, along with many other wonders. The Tallis Illustrated Atlas was a classic publication of its time. The maps were engraved on steel plates and they continued to be revised until about 1865. This was one of the last great decorative atlases issued in the tradition of the Dutch atlases of the seventeenth century. It was one of the first to be published in both London and New York. John Tallis' partnership business, "The London Printing and Publishing Company" continued to flourish until the 1870s.
References:
Item Code:
MA7002
attachment: