Maps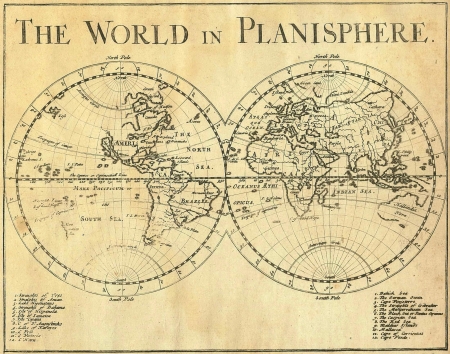 Artist / Author / Cartographer:
Moore, Sir Jonas
Title:
The World in Planisphere
Date:
1681
Medium:
copper engraving
Size:
16.3 x 20.8 cm
Description:
An unusual double hemisphere map of the world, published in London by Jonas Moore in the late 17th century. The map shows California as an island and curious configurations for New Zealand and Australia, based upon Abel Tasman's discoveries. Lists of place names given in the left and right corners.

The map appeared in Moore's A New Geography. Many of the plates in the work were engraved by Herman Moll, who had moved to London in 1678 and had not yet begun publishing under his own name. These are among the earliest known maps engraved by Moll. Burden credits Moll's first map as being his work for William Berry, also
in 1681.
The maps of Sir Jonas Moore are rare.
References:
Item Code:
MA7976
attachment: