Maps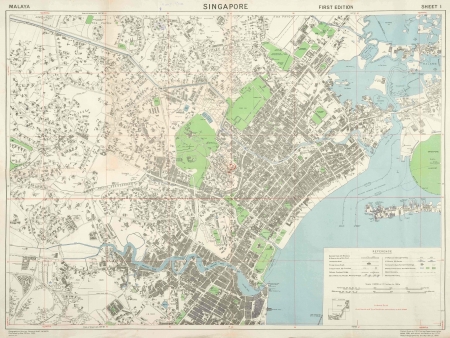 Artist / Author / Cartographer:
War Office, Geographical Section , General Staff
Title:
Singapore
Date:
1944
Medium:
lithograph, printed in colour
Size:
72.5 x 100 cm
Description:
Malaya - Singapore - First Edition - Sheet 1.
Geographical General Staff, No. 4476. Published by War Office, 1944. 5,850/6/44. S.P.C. Copied from an F.M.S. Survey Department Plan dated 1938, with minor corrections by I.S.T.D. Photolithographed by the War Office, 1944.
Scale 1:6336 or 10 inches to one mile.
LOwer right a Reference (Index) shows roads, railways, bridges, rivers, canals, swamps, tennis courts, recreation grounds, Mukim Boundart and Municipal Boundary.
A detailed city plan of Singapore during the 2nd World War.
References:
Item Code:
MA7985
attachment: