Maps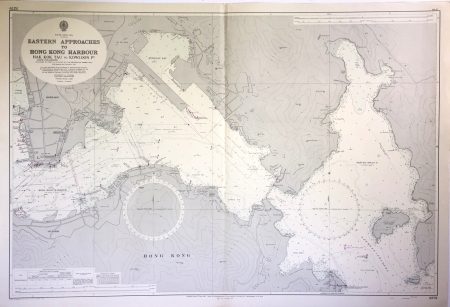 Artist / Author / Cartographer:
Hydrographic Office of the Admiralty
Title:
EASTERN APPROACHES TO HONG KONG HARBOUR
Date:
1969
Medium:
heliozincograph
Size:
66 x 99 cm
Description:
SOUTH CHINA SEA - EASTERN APPROACHES TO HONG KONG HARBOUR HAK KOK TAU to KOWLOON Pt. (Cape Collinson)
Surveyed by Commander J.S.N.Pryor R.N., H.M. Surveying Ship 'DAMPIER' 1962-3. With additions and corrections to 1967. Scale 1:12,500.
Published London 7th July 1967 under the Superintendence of Rear Admiral G.S.Ritchie, D.S.C., Hydrographer of the Navy.
Chart No. 3279 (shown in lower right and upper left margins). Small manuscript corrections: 1967-1696/1968-313/1969-1869 (lower left margin).
Notes
CAPE COLLINSON was named after Sir Richard Collinson KCB (1811-1883), an English naval officer who, early in his career, was involved in the survey of Hong Kong with Sir Edward Belcher in 1841 and 1842. After the first opium war, as commander of HMS Plover he surveyed the China Coast from 1842-46, producing charts upon which all successors were based.
HMS DAMPIER
HMS Dampier was a Bay-class anti-aircraft frigate of the British Royal Navy, named after the explorer and author William Dampier (1652-1715). Launched in May 1945 as Herne Bay in Middlesborough, in July 1946 work commenced to convert her into a survey ship and she was commissioned in May 1948 and renamed Dampier.
Dampier was in commission was 1948 to 1968, spending her entire career based at Singapore, carrying out oceanographic and hydrographic surveys around the coasts of Malaya, Borneo and Hong Kong, in the South China and Java Seas, with regular annual refits at Hong Kong, and inspections at Singapore.
The following is an extract from the Hong Kong Marine Department's website https://www.mardep.gov.hk chapter 4 titled 'Early Hong Kong Nautical Charts/Survey work since the Second World War':
In 1949, when tension was high along the border following the establishment of the Peoples' Republic of China, precipitating a flood of mainlanders into Hong Kong,
the British naval presence was strengthened. Two naval survey ships, HMS Dampier and HMS Belfast, were then in Hong Kong waters at the same time,
whereupon some survey work was undertaken mainly on both entrances to the harbor, probably for military considerations. Part of HMS Dampier's survey work was to cover the border
area of Deep Bay. In view of the sensitivity of the work, a Royal Marine Commando unit was in attendance to provide armed protection.
From 1950 until 1965 HMS Dampier remained in Asia, carrying out dedicated survey work in and around South East Asia, including Hong Kong waters. The last survey in
Hong Kong undertaken by this grand old lady was a triangulation survey of the Southern Approaches of Hong Kong under survey number K4714 for a chart index
number of 1180.
One highlight of HMS Dampier's work was the detailed survey of shoal soundings in the harbour in 1964, undertaken together with Hong Kong University's Physics Dept.
using prototype sideways-looking sonar developed by the University.
HMS Dampier also greatly assisted a number of significant civil engineering projects within the harbour by carrying out a series of survey works for the 'Port Works and Development Plans in Vicinity of Hong Kong' from 1958 to 1961, as well as making
soundings near piers in six areas of Hong Kong Harbour in 1960".
J.S.N.Pryor R.N.
Joined HMS Dampier as commanding officer in March 1961 after having commanded HMS Cook for two years from February 1959 conducting oceanographic surveys in the South Pacific, mainly around Fiji and the Gilbert Islands.
Bibliography
. Hong Kong Maritime Museum, Charting the Pearl River Delta: A catalogue of charts, Sailing directions, views and a bibliography pertaining to charting the Pearl River Delta, HKMM Hong Kong, n.d., page 33, 35
. Empson, Hal, Mapping Hong Kong: A Historical Atlas, Hong Kong, 1992, page 187.
References:
Item Code:
MA8151
attachment: