Maps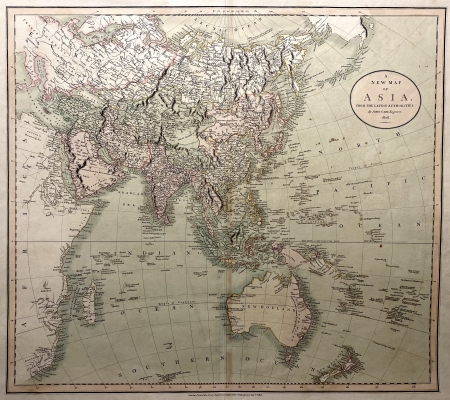 Artist / Author / Cartographer:
Cary, John
Title:
A New Map of Asia from the Latest Authorities
Date:
1806
Medium:
copper engraving, original colour
Size:
45.5 x 52 cm
Description:
A New Map of Asia from the Latest Authorities
London, Printed for J. Cary, Engraver & Map Seller No 181, Strand, Sept 1st 1806
An attractive early 19th century map of Asia and Australasia, that gives a vivid picture of geographical knowledge at the beginning of the eighteenth-century. Many of the islands in the Pacific, New Guinea, and the coasts of Australia are very sketchily depicted, although the map does show Tasmania as an island. Title at top right.
John Cary (1755-1835) was an English cartographer, engraver, globe maker and publisher. He had premises firstly in the Strand and then in St. James's Street, London. In 1794 he was the surveyor of roads to the General Post Office. He was regarded as one of the finest English cartographers. He started working at a time when the large scale English County maps had recently become available, roads were being used as never before and accurate geographical information from distant countries was being received in ever increasing detail. His fine craftsmanship and ability as an engraver enabled him to make the fullest use of these sources and from them he produced a wide range of maps of great accuracy and clarity. His work covered not only county maps but world atlases, road maps, town and canal plans, sea charts and terrestrial and celestial globes.
References:
Item Code:
MA8207
attachment: