OTHER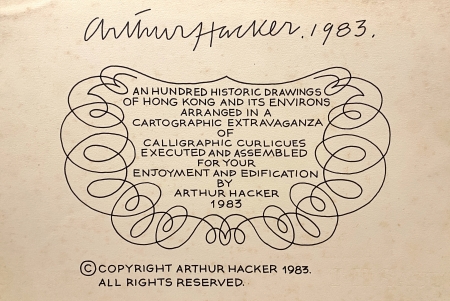 Artist / Author / Cartographer:
Hacker, Arthur
Title:
Arthur Hacker's Hong Kong Map Title Cartouche
Date:
1983
Medium:
Ink on Saunders paper
Size:
23 x 29 cm
Description:
"An Hundred Historic Drawings of Hong Kong and its Environs arranged in a Cartographic Extravaganza of Calligraphic Curlicues executed and assembled for your enjoyment and edification by Arthur Hacker 1983".
The original drawing and design for the title cartouche for Arthur Hacker's graphic, "Map of Hong Kong", signed Arthur Hacker and dated 1983.
Arthur published his map of Hong Kong in 1983 it was a clever collection of historical drawings spread across the territory of Hong Kong. It could be considered a cartographical masterpiece by an artist who knew his onions when it came to Hong Kong' colourful history, fact or fiction.
Here is a classic example of Arthur's curlicues and choice of font. Arthur, like a number of knowledgeable artists, was concerned with the quality of paper. He invested a lot of money into the highest quality paper for his graphic output. This drawing is on a high quality paper by the English firm Saunders.
References:
Item Code:
P6993
attachment: