Paintings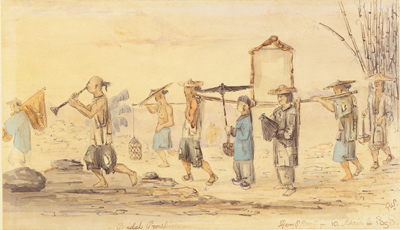 Artist / Author / Cartographer:
Snow, William
Title:
Bridal Procession, Hong Kong
Date:
April 10, 1858
Medium:
watercolour
Size:
27.5 x 48 cms.
Description:
A description of the scene is written in pen below, "Bridal Procession. The Bride is carried in the Sedan Chair ornamented with red (the bridal colour) on the eve of her marriage to pay her respect to the family of her husband. Her mother and sister walk by her side. A coolie goes in front with a red flag and beats a gong, a second blows a pipe and two more carry presents." The painting is signed with a monogram and dated.
The English artist William Snow painted this scene in Hong Kong on April 10th 1858 while visiting the island.
References:
Not in Chater.
Item Code:
P950
attachment: