Paintings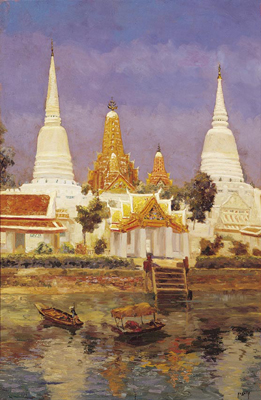 Artist / Author / Cartographer:
Pedersen, Hugo Vildfred
Title:
The Temple of Dawn, Bangkok
Date:
1896
Medium:
oil on canvas
Size:
90 x 60 cms.
Description:
An atmospheric painting of Wat Arun, the Temple of Dawn in Bangkok. The oil painting was done by Hugo Vildred Pederson in the late 19th century and is signed lower left. The sunlight reflects off the brightly painted stupas and the Menam River shimmers as a breeze wafts over the sultry waters casting long shadows and creating a mirrored image in the ripples of this famous landmark in Bangkok.
The Danish artist, Hugo Vildfred Pedersen was born in Copenhagen on 25th January 1870. He trained as an artist in Denmark and Germany. In the mid 1890s he sailed to Sumatra and then on to Penang and Singapore which he described and illustrated in detail. Most of the time he spent in the Dutch East Indies. In 1902 he published a book in German entitled, Durch Den Indischen Archipel. Eine Kunstlerfahrt von Hugo V. Pedersen. It was a lavishly illustrated deluxe publication of the Danish artist, Pedersen's sketch journal of his five year journey through the East Indies. Pedersen's drawings reflect his fascination with the exotic culture of the Far East.
One of the earliest available oil paintings of Wat Arun, Bangkok.
References:
E. Benezit Dictionnaire des Peintres, Sculpteurs, Dessinateurs et Graveurs. 1976.
Item Code:
P1573
attachment: