Paintings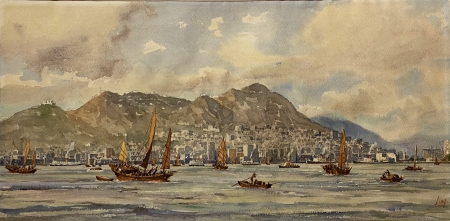 Artist / Author / Cartographer:
Kam Cheong Ling
Title:
Panorama of Hong Kong from the Harbour
Date:
c1965
Medium:
watercolour
Size:
33.5 x 68 cm
Description:
A beautiful view of the city of Victoria and the Peak on Hong Kong Island looking south from the sea.
The Chinese artist Kam Cheong Ling was accomplished and created his own style of painting. He was active in Hong Kong and Macau from the 1950s to the 1980s. His paintings are on display in the Macau Museum of Art.
References:
Item Code:
P6911
attachment: