Paintings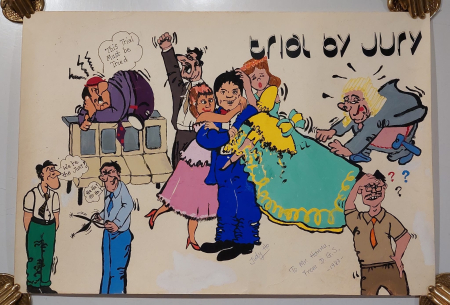 Artist / Author / Cartographer:
Judy Ho
Title:
Trial by Jury
Date:
1983
Medium:
gouache
Size:
40.5 x 59 cm
Description:
A gouache signed by Judy Ho, To Mr Hanna From D.G.S. (Hong Kong) 1983
A humorous gouache poster for the production of the play, "Trial by Jury". Various characters appear to be misbehaving with various funny speech bubbles, "This trial must be tried", "We're the Jury", "Ha Ha! Ho, Ho!".
Perhaps this was a gift from pupils of the Diocesan Girls School to their teacher Mr Hanna.
Over the years various amateur dramatic companies have produced plays in Hong Kong and Kowloon. Often printed broadsides were produced to advertise the play and posted in schools, churches and other institutions to make people aware and drum up support.
References:
Item Code:
P6992
attachment: