Photographs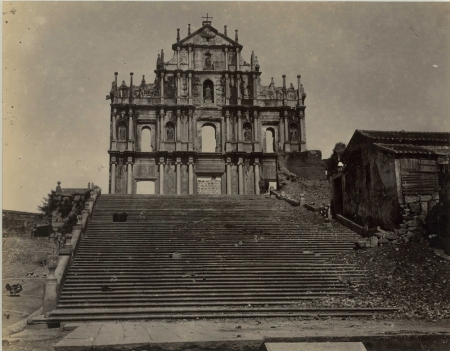 Artist / Author / Cartographer:
Unknown Photographer
Title:
Macau - St. Paul's
Date:
c.1875
Medium:
albumen print
Size:
19 x 24 cm
Description:
verso numbered in pencil 83.
'The chief building in this sketch is the ruin of St Paulo. This church, built by some Jesuit fathers, was destroyed by fire some forty years ago. What is here shown is all that remains of the once noble edifice, - one of the finest specimens of ecclesiastical architecture outside of Europe. It was not damaged by the typhoon. The buildings on the right show part of the effect of the great fire which raged simultaneously with the typhoon.'
Description taken from an Afong Lai photograph of St Paul's church in 1874. A few years before this photograph.
References:
Item Code:
P5837
attachment: