Photographs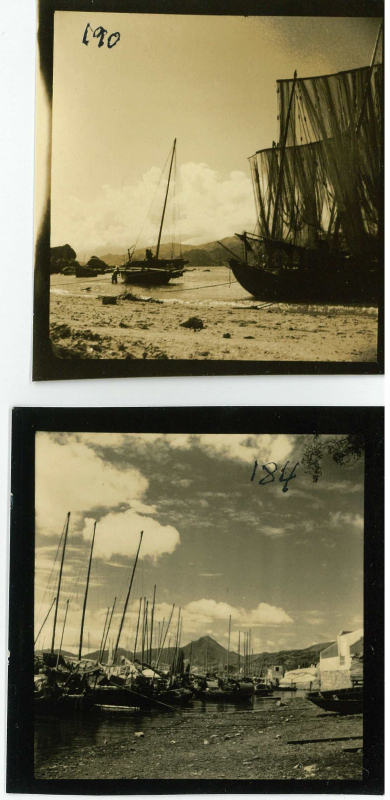 Artist / Author / Cartographer:
Vargassoff, Serge
Title:
Cheung Chau Island, and shipping in Hong Kong
Date:
c1948
Medium:
photographs and negatives
Size:
11.5 x 16.6 and smaller
Description:
A collection of photographs and negatives of Cheung Chau and shipping in Hong Kong waters in the 1940s.
14 black and white photographs showingg 11 different merchant ships in Hong Kong waters. There are 14 prints in all (3 images of one print are included). This collection of photographs also includes 18 negatives, 3 are negatives for photographs within the collection, the other negatives are different images also showing ships and other craft, some of scenes such as Cheung Chau Island in June 1948. Prints measure 11.5 x 16.6 cm. Each negative is contained within a glassine envelope from the studio of Serge Vargassoff, Photography, 3A Wyndham Street, Hong Kong.
There are three copies of a photograph of a Chinese merchant ship, 'East Warrior', and two copies of a Chinese merchant ship, 'China'. The collection also includes a photo of the merchant ship Tjisadane, which was launched in 1931 and was used by the Java-China-Japan line before being acquired by the US during WW11.
Serge Vargassoff was born in Russia. In 1926 he established himself as a photographer in Peking (Beijing) at the age of 20. Hedda Morrison, the talented photographer was working in Peking at the same time. In her book, A Photographer in Peking (1985) she refers to Vargassoff as, "an excellent, but not very business like, photographer. We enjoyed a firm friendship and it was he who bought the news of the Japanese surrender and a bottle of vodka to celebrate the event". After the war he moved to Hong Kong and had a photography business at 3A Wyndham Street. He took some photographs of Cheung Chau Island in 1948. He later worked for Gainsborough Studio, Morning Post Building, Hong Kong. He then moved to Sydney where he passed away in 1965.
Condition
Two photographs are stained in one place each and three have a paperclip rust stain at the upper right corner. Occasional creasing and wear at the edges.
Provenance
From the collection of Arthur Hacker, Hong Kong historian, artist and collector
Acquired from Asia Bookroom, Canberra.
Reference
Notes on Serge Vargassoff by Anna Kim, Curatorial Research Assistant, University of Sydney.
References:
Item Code:
P7016
attachment: