Prints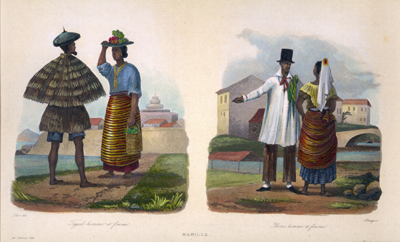 Artist / Author / Cartographer:
Paris, Admiral Francois-Edmond
Title:
Manila - Manille, Tagals homme et femme; Illocos homme et femme Tagal man and woman ; Illocos man and woman
Date:
1830
Medium:
aquatint
Size:
19 x 34 cms.
Description:
The Frenchman, Francois-Edmond Paris drew these pictures of Philippine costumes when he visited Manila on his second voyage of circumnavigation on the ship La Favorite .
The presence of foreigners has had a great effect on the dress of the Tagals, the inhabitants of Manila. The effect on their customs is equally marked. The resultant new prosperity and trading relations have refined the customs of a population which is receptive to civilisation.
Reference
Voyage around the world on the Corvette La Favourite,during the years 1830, 1831, and 1832 under the command of Captain Laplace. Paris, Imprimerie Royale, 1833 - 1839
References:
The Philippines in the 19th Century Rudolf J.H.Lietz
Item Code:
P1559
attachment: