Prints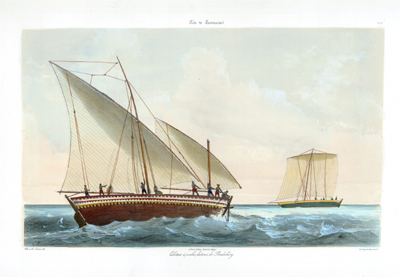 Artist / Author / Cartographer:
Paris, Admiral Francois-Edmond
Title:
Coromandel Coast - Caboteur a voiles de Pondicherry Coaster with lateen sails from Pondicherry
Date:
1841
Medium:
lithograph, later colour
Size:
23 x 37 cms.
Description:
No.25. These small boats are European in appearance and seem easy to sail. They are around 15 to 20 meters in length with a width of between 3.5 and 4 meters. They are found on the Southern part of the Coromandel coast with crews of Lascars and use a canoe or raft as a dinghy.
References:
Item Code:
P1642
attachment: