Prints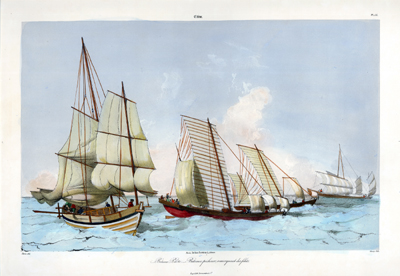 Artist / Author / Cartographer:
Paris, Admiral Francois-Edmond
Title:
China - Bateau Pilote et Bateaux pecheurs remerquant des fillets Pilot Boat and fishing boats trawling their nets
Date:
1841
Medium:
lithograph, later colour
Size:
24 x 36.5 cms.
Description:
No.55. Trade brings many foreigners to Canton and the Chinese offer themselves as guides to the thousands of small islands, through which they know every passage. These boats are easy to handle and give foreigners a favourable impression of Chinese shipping, which, in general, is fine when the vessel is small in size.
References:
AP09
Item Code:
P4851
attachment: