Prints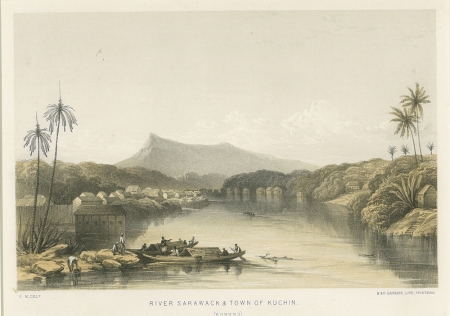 Artist / Author / Cartographer:
Marryat, Frank S.
Title:
Sarawak - River Sarawack & Town of Kuchin (Borneo)
Date:
1848
Medium:
lithograph
Size:
13.5 x 20 .3 cms.
Description:
The original drawing of this view was made by Frank Maryatt in 1845 it was published as a lithograph by M&N Hanhart in 1848.
As a young British naval officer Maryatt spent some time on a hospital ship in Hong Kong harbour in 1845. He was recovering from malaraia that he had caught in Borneo. It was a particularly unpleasant time to be in Hong Kong as fatalities were high from malaria contracted in Happy Valley. Maryatt couldn't wait to get off the hospital ship and return to service. Having recovered and returned to dry land he wrote, "Murders and robberies were of daily, or, rather nightly occurence at Hong Kong". Fortunately he survived and we have not only a lively account of his time on the China coast but also some wonderful pictures before the age of photography.
References:
Item Code:
P3336
attachment: