Prints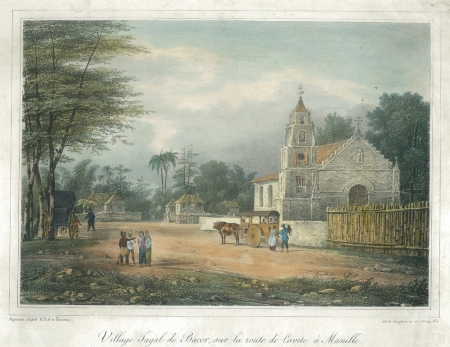 Artist / Author / Cartographer:
Dupressoir, Francois-Joseph,
Title:
Philippines - Village Tagal de Bacor, sur la route de Cavite a Manille
Date:
1828
Medium:
lithograph
Size:
19.8 x 28 cms.
Description:
lith. de Langlume, rue de L'Abbaye, Paris
Tagalog Town of Bacoor, along the Road from Manila to Cavite. The town or pueblo of Bacoor is located near the sea, to the south of the Cavite seashore. The countryside scene that surrounds it is very beautiful. The town wharf serves as an unloading dock for foreign sailors who disembark from their ships to enjoy a walk around town. The road to Manila crosses it, and when one has some business to do in this town, one usually starts from this place. Transport vehicles are often seen to stop by or leave from here to bring their passengers to their different destinations. The Tagalog people have a different kind of car - it has spokeless wheels, no suspension and is very low. Normally, a buffalo pulls it around.
Published in Album pittoresque de la fregate La Thetis et de la corvette L'Esperance. Paris, 1828
References:
The Philippines in the 19th Century Rudolf J.H.Lietz page 2
Item Code:
P3482
attachment: