Prints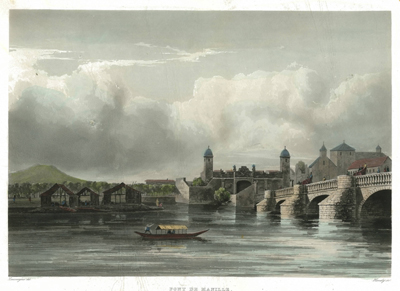 Artist / Author / Cartographer:
Lauvergne, Barthelemy
Title:
Manila - Pont de Manille
Date:
1830
Medium:
aquatint
Size:
22 x 31.8 cms.
Description:
A view in Manila in 1830 showing a stone bridge crossing the Pasig River towards Intramuros.
Captain Cyrille Pierre Theodore Laplace (1793-1875) circumnavigated the world on the corvette La Favorite from 1829-1832. The ship visited the Philippines from September to November 1830. Barthelemy Lauvergne (1805 - 1871) was draughtsman aboard La Favorite.
References:
The Philippines in the 19th Century Rudolf J.H.Lietz Voyage Around the World on the corvette La Favorite, 1830, 1831, 1832 under the command of Captain Laplace. Jane Foreman - Antiques of the Orient 1991
Item Code:
P2954
attachment: