Prints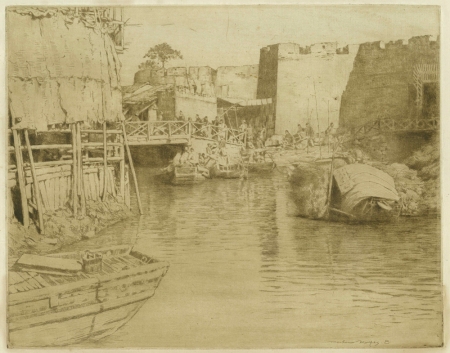 Artist / Author / Cartographer:
Menpes, Mortimer
Title:
Shanghai River Scene (Large Plate)
Date:
c.1896
Medium:
etching and drypoint
Size:
19.5 x 25 cm
Description:
Signed in the plate lower right, Mortimer Menpes.
A rare view of one of the entrances to the old walled city of Shanghai which Menpes drew at the end of the nineteenth century.
Mortimer Menpes [1855-1938]was born in Adelaide in South Australia in 1855. He moved to London with his parents and Rosa Grosse who he married. He became an accomplished painter and engraver.
He shared a studio with James Abbott McNeil Whistler in the 1880s. "I have educated and trained you ... You are but the medium translating the ideas of the Master." Whistler wrote to Menpes. He made two journeys to the Far East. One in 1887 and another in 1896. These etchings of Shanghai were probably exhibited in an exhibition of over 100 of his works at the Dowdeswell Galleries, London in May 1897.
References:
Item Code:
P2390
attachment: