Prints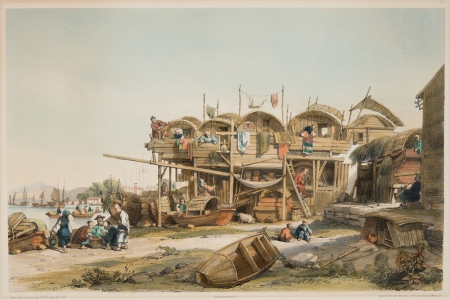 Artist / Author / Cartographer:
Borget, Auguste
Title:
A view of boat dwellings at the Inner Harbour of Macao
Date:
1842
Medium:
lithograph, hand coloured
Size:
27 x 41 cms.
Description:
Habitations de Pauvres. Port Interieur de Macao. (pl. XIII)
Dessine d'apres nature par Aug. Borget Lith. par Eug. Ciceri. Imp. Lemercier, Benard et Cie. Paris, Goupil et Vibert edit.
A group of sampans have been bound together and reconfigured into a 2-story dwelling by the shore of the Inner Harbour in Macau.
The French artist Auguste Borget was born in Issoudun in France on 28th August 1808.. He studied painting in Paris and became one of the most widely travelled artists of his time. In 1836 at the age of 28 he embarked on a voyage around the world. He visited New York and then he continued his journey to South America where he painted many views of towns, people and the countryside. A number of these were published as lithographs to illustrate his book, Fragments d'un voyage autour du monde in 1845. He spent 1838 and 1839 living in Macau and on the China Coast. He painted some of the earliest views of Hong Kong which were later published as lithographs in 1842 in Sketches of China and the Chinese. There were other views of Macau, Canton and the Pearl River featured in the same book. The lithographic artist Eugene Ciceri produced these lithographs in Paris in 1842 after the original paintings by Auguste Borget. They were printed by Imp. Lemercier, Bernard et Cie and edited by Goupil et Vibert in Paris.
References
FROM "SKETCHES OF CHINA AND THE CHINESE" AFTER AUGUSTE BORGET, 1842.
References:
Item Code:
44.P5616
attachment: