Prints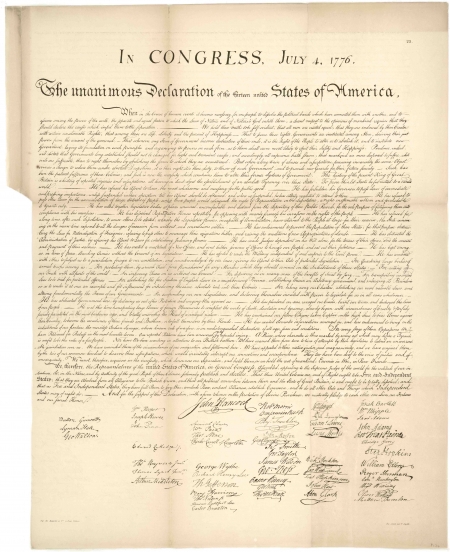 Artist / Author / Cartographer:
Lepelle and Kaeppelin
Title:
Declaration of Independence
Date:
c.1848
Medium:
zincograph
Size:
Description:
Imp. chez Kaeppelin & Cie 15 Quai Voltaire. Fac-simile par F. Lapelle.
F. Lepelle / Kaeppelin & Cie Fac-simile of the Declaration of Independence printed 1848(?)

Lepelle and Kaeppelin appear to have flourished in the mid-19th century, there are references to their works from 1857 (Lepelle) and 1863 (Kaeppelin). A copy of their Declaration of Independence sold for US$13,200.00 at Sotheby's NY 10.15am sale of 30 Nov., 2005, Lot 29, Sotheby's attributed the tentative and early date of "1848".
Frederic Lepelle de Bois Gallais is best known today for his 1857 biography of noted French Realist artist Mlle Rosa Bonheur (1822-1899) which is still in print. He is also referenced as the artist or engraver for some illustrations in Arif Pasha's 'Ancient Ottoman Costumes' Lemercier, Paris, 1863, it seems Lepelle's and the other illustrators' illustrations for this book were printed by Kaeppelin & Cie which speaks to a continuing collaboration between Lepelle and Kaeppelin.
From the format of the print and the paper of the facsimile It seems to me possible, indeed likely, that this item is an early zincograph, pioneered in France by Kaeppelin in 1842 . It is also likely that this is the first full sized facsimile of the Declaration of Independence (DOI) printed outside the USA, though text versions of the DOI appeared in print in London as early as 1776 in the Gentleman's Magazine and January 1777 in the Annual Register.
This print seems most likely to be based on the William Stone original copperplate facsimile of the Declaration of Independence made for the US government and completed in or about 1823, now in the US National Archives. The Lapelle facsimile, it seems to me, may have been copied from Peter Force's 1833 edition of the Stone prints which appeared in Force's American Archive, Series 5 vol. 1,
Thank you to Julian Stargardt, for compiling these notes for us. 18 Nov. 2014
References:
Item Code:
attachment: