Prints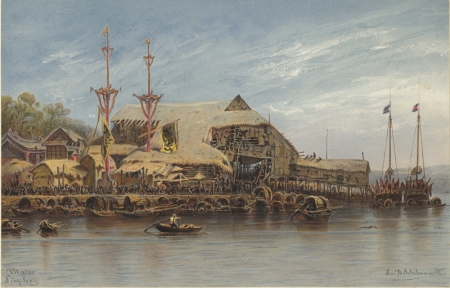 Artist / Author / Cartographer:
Hildebrandt, Edward
Title:
Macao, Theater Sing Song
Date:
1863
Medium:
chromolithograph
Size:
24.5 x 38.3 cms
Description:
Label verso - No.17. Macao, Theater Sing Song.
A Chinese opera house built as a matshed outside the Ama temple in Macau in 1863. Sampans and junks are moored alongside the shore and two customs' posts are visible. The site would have been close to the present day Macau Maritime Museum.
There are a number of interesting notes about the German artist Hildebrandt in Benezit. He was born in Danzig on 9th September 1819. He studied art in Berlin in the atelier of Krause before moving to Paris. He was an indefatigable traveller and in the early 1860s embarked on a painting expedition around the world. Among the places he visited and painted were Macau and Hong Kong. As a result of his travels he held a private exhibition of his paintings in London in 1866 and another at the Crystal Palace in 1868. His work is in the National Gallery and the Royal Collection of Berlin.
A series of beautiful chromolithographs of the various places he visited on his world tour were published in Berlin in 1867. This is lithograph no. 17.
References:
Item Code:
P4851
attachment: