Prints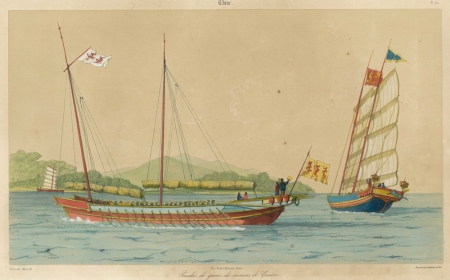 Artist / Author / Cartographer:
Paris, Admiral Francois-Edmond
Title:
Small Junks of War from the outskirts of Canton
Date:
1841
Medium:
lithograph, later colour
Size:
21.6 x 37 cm
Description:
China - Peniches de guerre des environs de Canton - Small Junks of War from the outskirts of Canton.
No. 52. These junks are armed with long iron swivel guns and their shot cannot be over one pound. They are constantly seen sailing around Macao where they keep the Europeans under surveillance.
The Frenchman, Francois -Edmund Paris (1806-1903), sailed on the circumnavigations of L' Astrolabe, La Favorite and L'Artemise. He produced superb drawings of ships and boats of different countries of the world. Eventually 132 lithographs were produced to illustrate his "Essai sur la Construction Navale des Peuples Extra-Europeens ou Collection des Navires et Pirogues" which was published in Paris by Arthus Bertrand in 1841.

Paris was later made an Admiral and in 1871 he became the curator of the Naval Museum at the Louvre.
References:
Item Code:
P4732
attachment: