Prints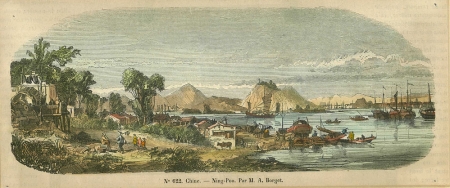 Artist / Author / Cartographer:
Borget, Auguste
Title:
Ningbo - Ning-Poo. Par M. A. Borget
Date:
c1838
Medium:
wood engraving, later colour
Size:
8 x 21 cm
Description:
No. 622. Chine. - Ning-Poo. Par M. A. Borget.
A view of Ningbo, visited and drawn by Auguste Borget in 1838. Five years later it would become one of 5 Treaty Ports.
A scarce early study of this important Chinese port which was drawn by the talented French artist Auguste Borget. This engraving was done on wood and published in a French magazine in the mid 19th century.
References:
Item Code:
P6383
attachment: